Welcome to our online-gallery
Private collection in Helsingborg, Sweden. We sell Swedish, British and Danish marine paintings from the 19th century. Using the menu to your left you can view paintings from our collection.
Not looking for a specific artist?
Not interested in a specific artist, or just want to browse? Please take a look around in our picture gallery.
If you want to make an enquiry about a painting, please contact us.
Paintings overview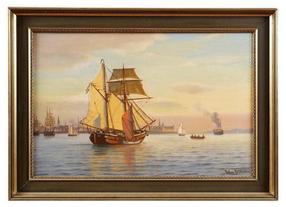 In our picture gallery you can get a quick overview of our paintings.
If you want more information about a certain painting or artist, look up the artist in our productlist.